After over 20 years of DNS and PowerDNS, I am moving on. Separate from this page, I am releasing a series of three huge posts on the history of PowerDNS, so I won't dwell too much on that here.
This is not an easy story to write. I don't like to grandstand, but when the founder of a project decides to leave after two decades, people do expect some form of an explanation.
It is also customary to describe such an exit in upbeat terms, sometimes to the point that you wonder that if things were so great, why is this person leaving?
But the reality is, I got bored and wanted to do new things. PowerDNS and the wonderful people who I met along the way have taught me so much – software development, operations, marketing, sales, business development, community building, writing internet standards & much more. It has been a wonderful ride.
But now it appears DNS and I are somewhat at the end of our relationship (even though I will remain a minor PowerDNS shareholder). Formally I leave on December 31st.
Helping build PowerDNS to what it is today – a flourishing department of Open-Xchange, able to fund itself by delivering its software to paying users, while maintaining good relations with the open source community, has been an incredible honour.
As I leave the company, management and software development have long been in the hands of people I am proud to call my successors. They are doing a better job than I ever did – the only claim I have on the current success is that I helped recruit this next generation. I don't think there is much more to aspire to when you create a company than leaving it behind in good shape.
(please do read on till the end of this post for the Oscar-speech round of thanks!)
Some observations
A few years ago, I became somewhat upset with DNS. This is not the main reason for quitting the profession, but now that I have your attention for one final time I do want to take one last stand on two important issues.
In 2018 I did a talk over at the IETF on the ever increasing size of the combined set of DNS specifications – I had looked through the upcoming work from the various standards groups. I plotted the amount of text involved, and also extended this to the historical beginnings of DNS. And it turned out that DNS was growing at one page every two days – without getting any better. I titled this talk "The DNS Camel", and I wondered if just one more standard might break the back of the protocol.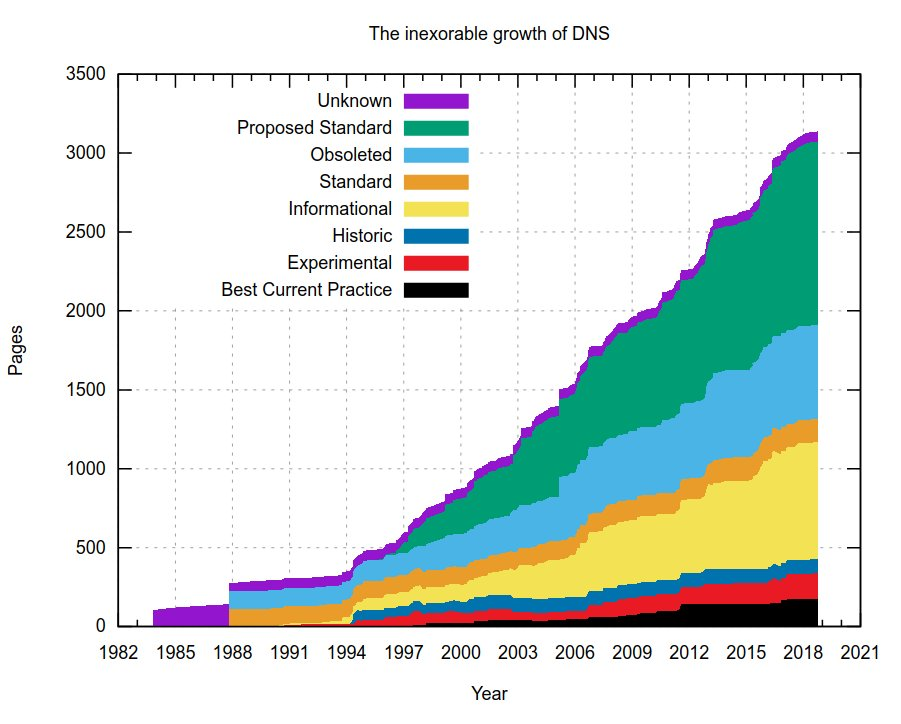 Many listeners were sympathetic to this story, but also, nothing happened. The protocol just continued to grow. There was the legitimate question if I could please do more than complain. My main worry was that DNS would become even more inaccessible than it was already. I launched the 'Hello DNS' project to create a unified point to start learning about this protocol. I think that helped.
But I still fervently believe DNS is getting way, way too big. Not only does this make our software ever more complicated, it is also ever harder for new people to enter the field. You just don't get all this *stuff* without half a decade of experience. This will lead to dangerous bugs but it also means we'll miss out on younger talent that has not yet had the chance to incorporate the wisdom we've been imparting via the many RFCs we write each year.
And I think I am not alone in believing this – as I type this I am surrounded by no less than 4 (tiny) camels that people sent me as gifts (thanks!).
DNS and the Cloud
Later, I saw that there was a push for "the cloud" to take over yet another part of our Internet. Encrypted DNS is great, we should all do far more of that. But I was (and am) tremendously unhappy that more and more of DNS is now set to move to (among others) Google and Cloudflare control – both of whom protest that they have nothing but the best intentions. But still I see yet more of the Internet getting centralised, and I worry where that will go.
I also worry that people somehow are not worrying about this – somehow we've made peace with the fact that companies far away get very detailed records on everything we do online, and that we just have to live with that.
Together with Open-Xchange we spent two years spreading the word on centralised DNS over HTTPS, and I do hope we have made people think about this wisdom of moving DNS to centralised third parties.
A round of thanks and appreciations
To end on a happier note – I want to thank the PowerDNS people for the tremendous job they are doing. Already more than a year ago I started removing myself from more and more discussions, and the way you are running the business fills me with pride.
I want to thank the many people who believed in PowerDNS, who believed in me and worked with our technology, sometimes long before it was ready for prime time. You truly helped shape the product. I am very grateful for the people that decided to work with and for us, even when we did not look like much of a normal company. And of course, so much of PowerDNS actually came from the open source community, including key and core components. I can't thank the contributors enough.
One area of special pride is how we enabled a number of PowerDNS contributors & consultants to grow their own business or to enhance their own career. It is wonderful to see how we've been able to help each other get ahead in life, while doing useful things.
I also want to thank Open-Xchange (the PowerDNS parent company) for taking such good care of the company. As noted in the PowerDNS history posts, OX took in PowerDNS at a time where business was good, but the future was highly uncertain. Rafael and crew believed in the story and acquired the company.
Open-Xchange provided a powerful sales organization, but also a rock solid project department that helped actually close deals and to deliver working solutions over at complicated customers.
It is very rare for acquisitions to be truly successful, but PowerDNS and Open-Xchange really are better together. Using the skills from both companies, PowerDNS expanded into the PowerDNS Platform that delivers the solutions that large scale internet operators need and can use.
I wish everyone the best of luck, and I sincerely hope PowerDNS continues to be a place where people love to work and that it continues to be a force that helps improve the open internet!
Signing off –
Bert Hubert – PowerDNS co-founder (a title no one will ever take away from me!)